Yesterday was the second semi-final of the Eurovision Song Contest. The final will take place tomorrow. It was overall a pretty good bunch, although neither Ireland nor Cyprus, both of whom I thought had really strong numbers, made the cut. Europeans have weird tastes.


The Latvian singer was jumping around the stage more or less in this position for the entire number. Although I have to give them props for resisting the temptation to sing in English. I can't speak Russian but I thought I heard the word "kulak" so maybe the song was about the plight of wealthy farmers.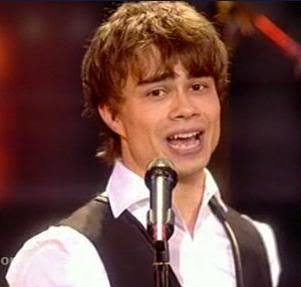 The lead singer/violinist from Norway is the frontrunner in the Eurovision Moustache Contest.



Before each song a transliterated Russian word was displayed along with its translation. I was completely stumped by this one before I checked the meaning in English.



Medved! MEDVED! That's like…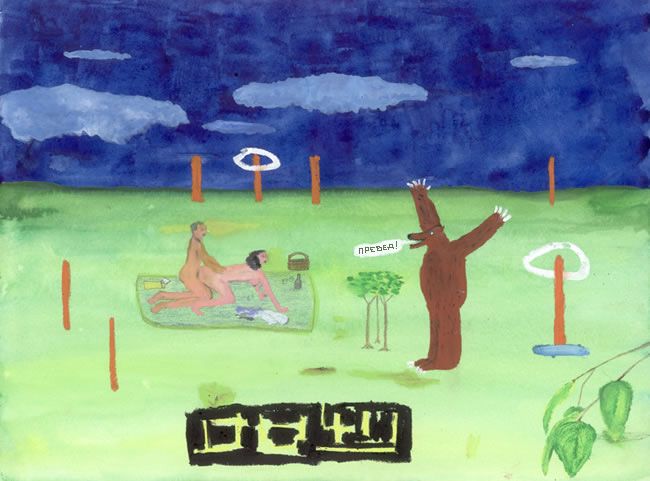 Preved Medved! Speaking of John Lurie, the first Lounge Lizards album is so awesome.


Really, no Russian party would be complete without bears.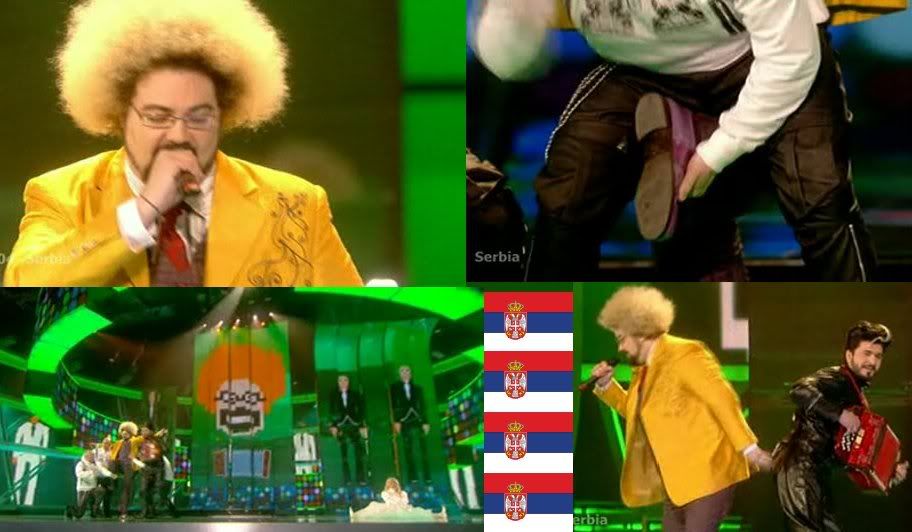 So I have this stereotype in my head of Serbs as being assholes which is, admittedly based more or less entirely on Gavrilo Princip and Slobadan Miloševi?, the only two Serbs I can name off the top of my head. After seeing this act though, I don't know what to think.


The Hungarian singer having his clothes torn off. You could say they're "Hungary for love!" Eh, eh? No? Oh well.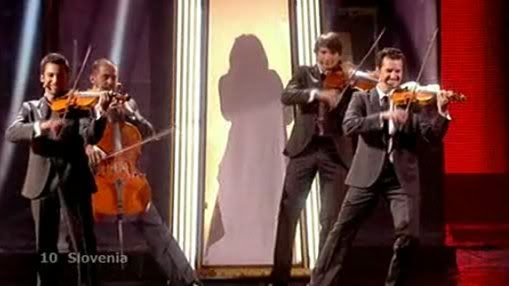 The Slovenian singer was behind this curtain for two thirds of the performance. When she finally emerged I disappointed and surprised at the fact that she was neither naked nor hideous, respectively.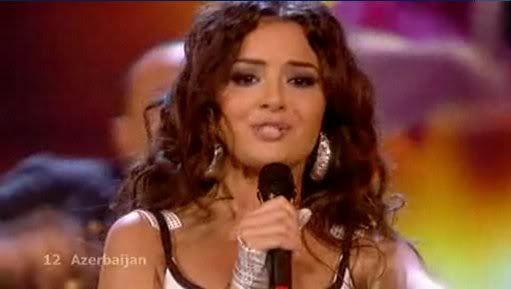 Of the 25 countries competing in the final, 13 of them have never won, including Azerbaijan, a country nobody's heard of (it's one of the few Asian CIS members whose name doesn't end in "-stan"). I hope their chief export is hot women like AySel (who's only 20!!). If Azerbaijan does when it'll be only the second or third time the winner isn't pasty white.


Kids, this is what happens to you when you grow up in a godless country: green men molest you.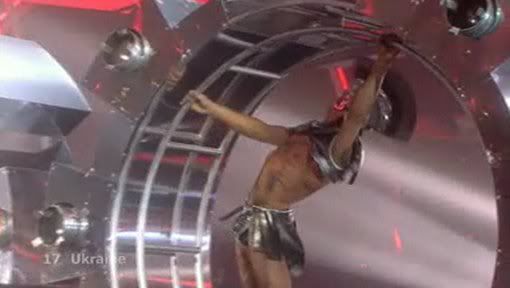 Roman centurions in hamster wheels are a common sight in the Ukrainian countryside.


"By the way, I'd like to tell you about the things you need to watch the Eurovision Song Contest. You need wide screen TV, you need laptop and you need a toaster. You need TV to watch, laptop to get the exclusive [unintelligle] access backstage to exclusive materials and the chance to get in toach with the fans of Eurovision, so go eurovision.tv and toaster… for making toast!" - Dmitriy Sheplev, Greenroom Reporter
He redeemed himself, however, with some good comments in the following press conference. Which was boring for the most part except when some asshole from the Netherlands asked the Moldovan party whether he would have to bring his own tent next year if Moldova won the contest (Moldova, of course, being one of the least developed countries in Europe). I didn't catch her answer, which was in Moldovan (which is IDENTICAL to Romanian, but don't tell that to a Moldovan).


Also during the press conference, they had multiple cameras going and this shot came on the screen and inexplicably lingered there for several seconds.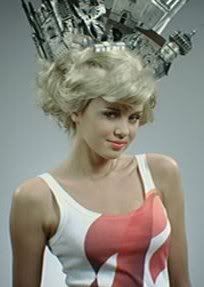 I've been stung by Cupid's arrow. It's official, I am going to marry this mascot woman. [Ed.—It seems her name is Ksenia Sukhinova and she's actually a year younger than I am. Oh and she was Miss World 2008.]