Eurovision was so awesome. I'm totally going to watch it every year now. Although, from what I gather, not all host countries take the contest as serious as Russia did so in effect, this might have been the "Beijing" of Eurovisions in that future countries won't be laying down so much cash when hosting the contest
Politically motived voting remains, as always, an issue. Cyprus gave Greece douze points and Moldova and Romania likewise swapped their twelve. And it goes without saying that the non-Greek Balkan nations all scratched either others's backs.
Alexander Rybak of Norway was a deserving winner. In the past Norway has had the dubious honour of coming in last place 10 times, four of which they got nul points. This year they got a record-breaking 387 points, including a record-breaking 16 sets of douze points and a record-breaking 169-point lead over second place. So, all in all, pretty successful.
The great thing about Rybak's win is his song and his choreography were relatively simple. If I have one criticism of the contest as a whole, it's the excessive stage productions that take the attention away from the music:
France Gall, 1965 (winner): http://www.youtube.com/watch?v=s5aeeSmkPwQ
Svetlana Loboda, 2009: http://www.youtube.com/watch?v=6q6eKK3NcR8
A few screen caps:

The French singer was unfortunately given not one, but two black eyes before going on stage.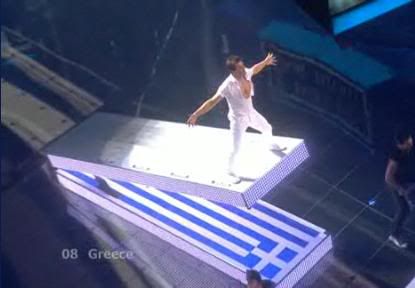 Beware of Greeks riding giant staplers.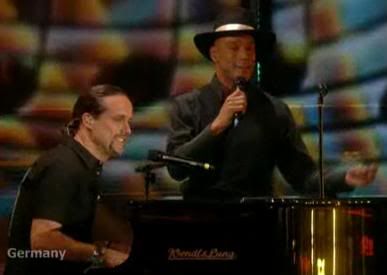 Rarely seen in the wild, this is the critically endangered German jazz cowboy, or die Deutschejazzenkowboy.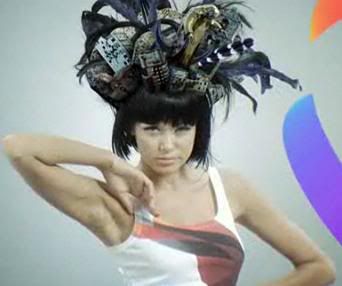 Based on her "hat," Albania was apparently the setting for The Nightmare Before Christmas.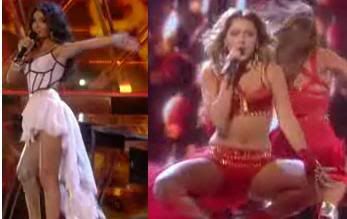 Those backward Muslim countries are SO repressive to their women.

I sat and pondered for some time over how I could turn this into a Russian reversal but I've got nothing. It's just a picture of an oddly emotional ??????? singer.


Easily my favourite Russian word. Evar.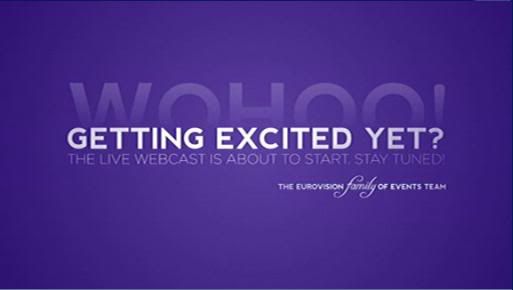 Wohoo!
[Ed.—With the proper promotion I think Brinck, the entrant from Denmark, could definitely break through the North American market. He's the only one whose style I think is suitable. But, in reality, with the exception of a handful of musicans (e.g. ABBA) mainland Europeans never hit the U.S. charts.]